5 Ways online booking boosts salon performance
5 ways online booking boosts salon performance.
According to studies up to 70% of millennials (people born between 1981 and 1996) prefer to book appointments online and most predominantly use mobile. These people have had internet access their whole life and online interaction is normal.
We all love convenience and time is at a premium. Read on to see 5 reasons why online booking will boost your salon performance:
Your reception is open 24/7
Not offering online booking might well be causing you to lose business to your competitors. Over half of online bookings are made when you are closed which clearly shows demand from your clients; they want to be able to book at a time that suits them.
During opening hours many of your clients are at work unable to make personal calls and even if they can they may prefer for their colleagues not hear them booking in their waxing! Using The Salon App booking app is quick, easy and far more discreet.
More than half of our bookings are made online. Our clients love it.
— Steven Vine, Gentlemen Jacks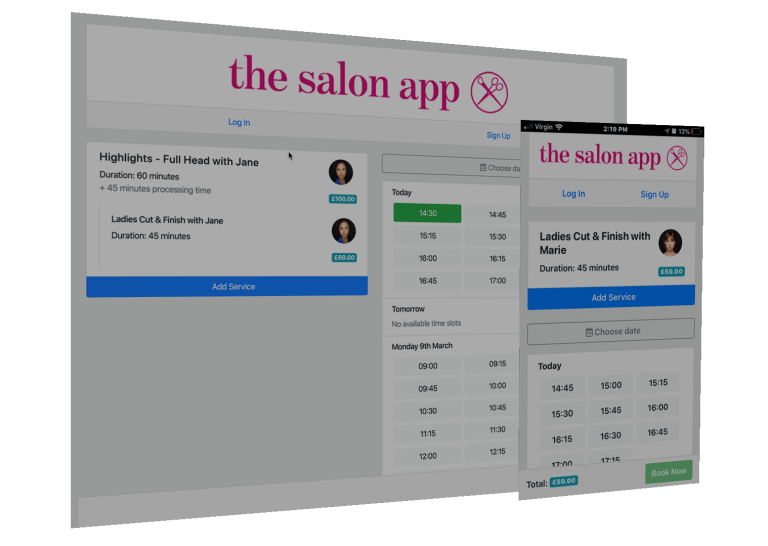 Less client interruptions
Many salons do not have full time reception cover so busy hair stylists can be pulled away from clients to deal with the phone calls interrupting the flow of a clients salon experience. Online booking makes this a thing of the past. No more interruptions or having to return calls after clients have left voicemail.
Monetise your website
You have probably invested time and money into producing a beautiful website that reflects your business. Clients can use it to get your contact details, meet the team and see your latest work, but in reality use it to get your phone number. Having a clear Book Now call to action positioned above the fold on your website or using The Salon App online booking widget will ensure that your website visitors know what to do next and make an online booking.
Monetise your Facebook page
Facebook's call to action button is a brilliant way to increase bookings from your facebook page. When your clients are engaging with your posts they can now take advantage of the Book Now link and make an online booking straight into The Salon App diary.
Increased New Clients
Over 20% of clients booking online are new customers visiting you for the first time. By not offering this service you may be losing new clients to your competitors. This is why The Salon App includes online booking as a no cost option and unlike some of our competitors do not make a charge for new clients using your online booking app. Its all included in our transparent pricing.
If you would like to find out more how The Salon App can help you to boost your salon performance please book a free online demo below.